NEWSFLASH
Dubai Drama Group will present Romeo and Juliet at the Dubai Community Theatre and Arts Centre. Confirmed dates are the 2nd and 3rd of March 2007. Register for a newsletter to receive details of this and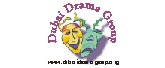 Home
Entertainment Here in Dubai
Written by Our Theatre Critque 
Discover details on the history of our Society, how we started, some of our past productions in the United Arab Emirates, plans for the future plus information on how to join this active drama group. Find out more about joining a dynamic team dedicated to providing its members with a friendly and rewarding hobby, please visit our membership page.
Presently, we meet socially as a group every month of the year. The venue for our socials vary according to the focus of the social event, so do ensure that your registration is up-to-date to receive details of these monthly events or write direct to us.
We operate a contact number (050-7698963) for those interested in speaking with us. Being a volunteer group, we may not be able to answer your call immeditaely, so please leave a message and we will return your call.
Please if you have any comments on this site, ideas for the next production or any questions we would love to hear them all!
(thes'pi-an), n.[after Thespis, Greek poet of the 6th c. B.C.], an actor, esp., a tragedian: humorous or pretentious usage.
Last Updated ( Wednesday, 13 December 2006 )