NEWSFLASH
Streetwise Fringe, presents 'Neville's Island' at Crowne Plaza, Sheikh Zayed Road in 29th to 31st of May 2007. Contact Streetwise through their web-site – streetwisefringe.com or on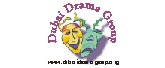 Home > Productions > Director's Submissions
Play Submission from an Interested Director
Written by Our Theatre Critique
Interested in submitting a Script to the committee for consideration?
Complete the form below with your contact details, an outline of the script, indicative dates when you are available to direct plus a copy of the script in word or pdf format.
Complete and send an e-mail direct to the committee.