NEWSFLASH
Dubai Drama Group will present Romeo and Juliet at the Dubai Community Theatre and Arts Centre. Confirmed dates are the 2nd and 3rd of March 2007. Register for a newsletter to receive details of this and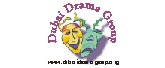 Home > About Our Group
2006/2007
AmDram has been in Dubai for more than thirty years and we have played a major part in entertaining the local community.
Our Group is managed by a Committee which shall consist of a Chairman, Secretary, Treasurer and five Ordinary Members.
Presently, we meet socially as a group on the second Saturday every month of the year. The venue for our socials vary according to the focus of the social event. Please ensure that your registration is up-to-date for you to receive details of these monthly events or write direct to us.
Our Committee Members for 2006/2007 ( 7 items )