NEWSFLASH
Dubai Drama Group will present Romeo and Juliet at the Dubai Community Theatre and Arts Centre. Confirmed dates are the 2nd and 3rd of March 2007. Register for a newsletter to receive details of this and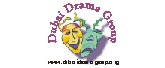 Home > Membership
MEMBERSHIP
Ah! The smell of the greasepaint, the roar of the crowds!
Do you act? Sing? Dance? Do you direct? Produce? Build sets? Design costumes? Do you love theatre – on stage or behind the scenes? Then join us!The
DDG is looking for fun, enthusiastic individuals with a passion for all things theatrical to help keep amateur dramatics alive and well in Dubai. Your experience doesn't matter – we have members who have done professional work, and well as those who have never trod the boards before. Membership in the DDG allows you to fully participate in all of our annual productions, plus gets you info on whatever else is going on theatrically in the community.
Our annual membership is AED 100.00 from the 1st of January 2007, pro-rata quarterly throughout the year.
We try to keep our finger on the pulse of the stage community here in Dubai, and many DDG members have also made connections with other amateur and even professional acting/theater/musical groups.Members and Patrons are also, of course, invited to the monthly social events, and receive our regular newsletters.
For all new and old members / patrons : the Secretary is working on organizing information about the DDG members so that directors and producers know who to tap for resources and help (for those who are slow to volunteer!).